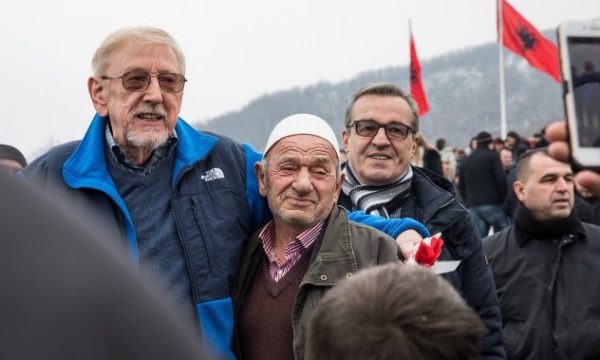 Gazeta Express
6 Dhjetor 2019 19:35
Former head of the OSCE Kosovo Verification Mission during the war in Kosovo, William Walker, said he is not surprised with the statements of Serbian president Aleksandar Vucic who accused him of fabricating the Recak massacre in 1999 in Kosovo.
Walker was the first to appear at the scene after Serbian forces killed and massacred 45 civilians in the village of Recak on 15 January 1999. After seeing the killings Walker said that this was a crime against humanity.
Walker speaking on Friday to a Pristina-based Kohavision TV said that this is not the first time that officials of Belgrade have called him under different names and falsely accused him of fabricating the Recak massacre. "There are plenty of evidence of what has happened. I attended the funeral of more than 40 people who were killed and massacred there. We have conducted an investigation and other investigations were launched also on this massacre and all draw the same conclusion, with what I have stated. I am sorry that Mr. Vucic disagrees with this and thinks otherwise. Over the last 20 years, the government in Belgrade has continuously tried to deny what their police forces did against unprotected civilians in Recak," Walker said.  
Walker also expressed his concern that none of those responsible for this Massacre have been brought to justice. "The Recak massacre was committed by Belgrade's security forces and whoever was responsible for that massacre, should be brought to justice. I know this has not happened and I am afraid that Serbia alleges this massacre was fabricated and false. But, I think the world knows the truth," Walker told Kohavision. /GazetaExpress/