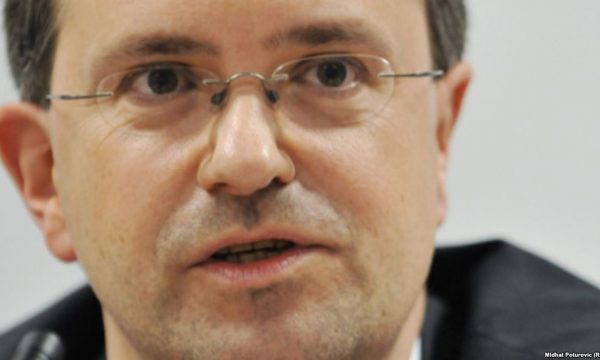 Gazeta Express
29 Janar 2020 14:59
Bodo Weber, Senior Associate of the Democratization Policy Council in Berlin, says agreements in principle reached between Kosovo and Serbia brokered by the US special envoy on dialogue, Richard Grenell, offer no solution on unblocking dialogue between the two countries.
German analyst says final agreement between Kosovo and Serbia is possible only through negotiations facilitated by the European Union and not the US. According to Weber, Washington should only support Brussels in this process. "There is only one way to a compressive, sustainable agreement between Kosovo and Serbia that takes the character of a peace agreement – through the EU-led negotiations and the perspective of EU membership for Serbia and Kosovo. The US can't do it. But it has an important role to play here – a supportive one, that of the main partner of the EU, just as they have done between 2011 and June 2018," Weber told Gazeta Express commenting bypass of the EU in the negotiations on restoring air and railway services between Pristina and Belgrade. Kosovo and Serbia reached two agreements in principle last week to restore air and railway services between their respective capitals in negotiations mediated by the US President Donald Trump's envoy on Kosovo-Serbia dialogue, Richard Grenell.
German expert says bypassing the EU, the new EU's High Representative Josep Borrell and key member states like Germany, and even provoking the latter by negotiating for months with Lufthansa, and then sign an agreement in the US Embassy in Berlin, "turns this small progress into a Pyrrhic victory."
"It raises justified suspicions that the motivation behind Mr. Grenell's activities are at best aimed at his and his administration's self-promotion, not at the future of Kosovo and Serbia, and at worst at annoying the German Chancellor," Weber stated.
However, Weber says that considering stalemate in dialogue and the fact that the political dialogue has stalled, the reached agreement under Grenell's mediation, are welcome if it helps improve everyday life of citizens in Kosovo, including that of Kosovo Serbs, and relationship between citizens from Kosovo and Serbia. Weber said that the Trump administration's shift from the destructive "openness" on land swap towards more constructive issues under envoy Grenell for sure marks a welcome change. "And his [Grenell's] rhetoric focused on economy and Western investments in Kosovo and Serbia in general is promising," he says. According to German political analyst the two most recent agreements reached under the US brokered talks, resemble the status neutral bilateral agreements of the early technical dialogue. "We have experienced that cannot be the path to a solution of the Kosovo-Serbia status dispute. The solution lies in a political dialogue, and a comprehensive agreement, that starts with a negotiating framework based on clear principles (red lines) defined by the West, aimed at putting an end to the status dispute – just as it had been done by Germany, the UK and the US in 2011-13," Weber said. "Given the misguided 2017-19 negotiations on a final, comprehensive agreement, this means a reset of the negotiations, and the key for that is in the hands of the new EU High Representative, Josep Borrell," he stated. At the end Weber said the approach of Trump's administration does not offer a solution, because as he says, Kosovo-Serbia dispute is a political-ideological one. /GazetaExpress/