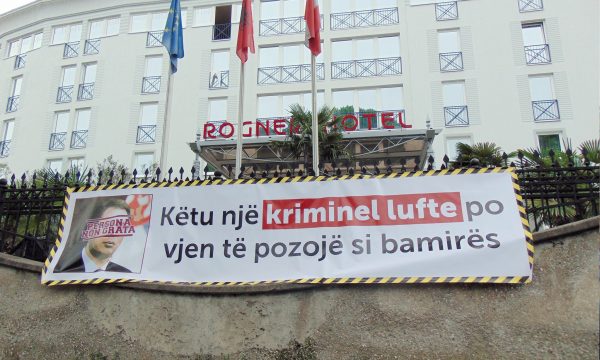 Gazeta Express
19 Dhjetor 2019 15:09
The Vetevendosje Movement centre in Tirana, has opposed the visit of Serbian president Aleksandar Vucic in Albanian's capital as part of the Balkans "Mini-Schengen" meeting set to take place on 20-21 December.
The Vetevendosje activists placed a banner in front of the Hotel where Vucic would be staying reading "A war criminal is coming here to pose as a humanitarian."
Head of the Vetevendosje in Albania, Enis Sulstarova, told media that the Government of Albania is trying to represent a war criminal such as Aleksandar Vucic as a humanitarian man who is willing to help people affected by earthquake which hit the country in November leaving 51 people dead and thousands without homes. The Vetevendosje in a press release said that Albanians know who Aleksandar Vucic is reminding that he served as minister of propaganda in Slobodan Milosevic's regime at the time of the war in Kosovo which left over 13 thousand people dead. "Serbian army and paramilitary units have killed thousands of civilians, and never returned remains of over 1600 people who are still considered as missing. Have raped 20 thousand women, destroyed over 100 thousand houses, stole cultural artefacts and pension fund," the Vetevendosje said. The Vetevendosje announced that they will organise a symbolic protest against Vucic's visit and against the "Mini-Schengen" idea in Balkans promoted by Vucic and supported by Albanian prime ministers Edi Rama of Albania and Zoran Zaev of North Macedonia.
Albanian PM Rama has invited Kosovo president Hashim Thaci to attend the regional summit, but Thaci turned down the invitation saying that regional cooperation is meaningless considering that Serbia continues undermining Kosovo's statehood. /GazetaExpress/