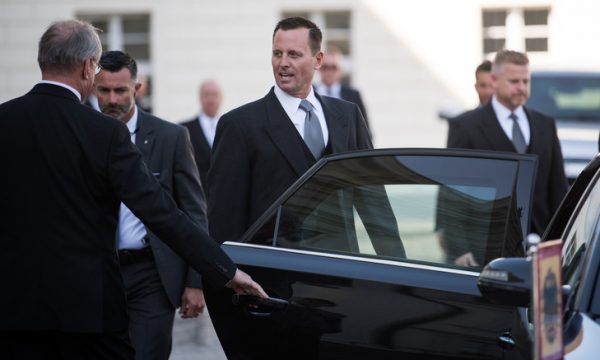 Gazeta Express
29 Janar 2020 11:54
The US President Donald Trump's special envoy for the Kosovo-Serbia dialogue, Richard Grenell, in an exclusive statement to Gazeta Express has confirmed that he is currently leading alone the efforts for Kosovo-Serbia dialogue resumption.
Grenell has confirmed that in his engagement in reaching the two agreements – one on Pristina-Belgrade air link and the other one on Pristina-Belgrade railway line – neither Germany, France nor the European Union have been involved. However, he says everyone who is interested in helping is welcome.
" Everyone is welcome to help. But they haven't been involved at all," Ambassador Richard Grenell told Gazeta Express .
The Federal Government of German Chancellor Angela Merkel has not spoken on cooperation with Grenell and the two agreements reached in Berlin. In a written response to Gazeta Express the German Federal Government declined to comment on US efforts in relation to the Kosovo-Serbia dialogue, while insisting that the dialogue should resume under the supervision of European Union High Representative Josep Borrell.
"Please understand that as matter of principle we do not comment on the efforts of our allies," a spokesperson for the German government said. "We welcome if Serbia and Kosovo agree to improve the connectivity and business relations. However, a political dialogue will also be necessary and this can be best achieved once Kosovo drops the unilateral tariffs on products from Serbia and Bosnia-Herzegovina (the 100% tax that Kosovo has imposed on goods from Serbia and Bosnia and Herzegovina). Generally speaking, our overall attitude has not changed: The Federal Government strongly supports the EU's efforts to promote the normalisation of relations between Serbia and Kosovo. The expectation is – in the interest of both countries – that this dialogue will resume as soon as possible under the aegis of the newly appointed High Representative and his team."
There has been no substantial reaction by the EU and the EU foreign policy chief Josep Borrell regarding Grenell's efforts and the two agreements. More than a week ago Gazeta Express asked Borell's office if they are involved in Grenell's efforts and whether they are cooperating with him, but has not heard back yet.
Meanwhile, Borrell is expected to visit Kosovo and Serbia during this week and most likely he will make a statement on this US effort on the Kosovo-Serbia dialogue. /GazetaExpress/