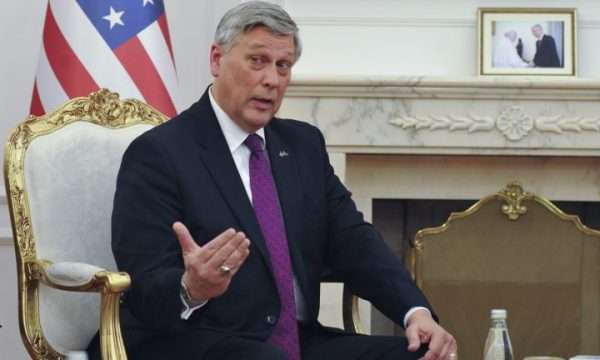 Gazeta Express
6 Dhjetor 2019 12:52
US Ambassador to Kosovo, Philip Kosnett, says time has come for political representatives step out of traditional politics and try to build a good future for Kosovo.
In an interview with Radio Kosova, Ambassador Kosnett said that Srspka List is a political reality in Kosovo and the rights of all communities should be respected. US Ambassador reiterated his stance that the government of Kosovo must be prepared to get back to the negotiating table with Serbia in the dialogue. "Kosovo should take advantage of the opportunity to sit down as an equal with other countries in the region to talk about the so-called mini-Schengen proposal because we don't believe that it's possible to speak of a prosperous economic future for the region without Kosovo playing  a role in shaping that future," Kosnett said. He said that the US administration is committed to supporting the dialogue and to supporting all efforts to build cooperation between Kosovo and Serbia. "Once an agreement is reached by the parties we will be there to help ensure that the parties keep their promises. I think the people of Kosovo from all communities can be confident that the United States will stay with you every step of the way," Kosnett said.
Commenting on the role of the Kosovo Specialist Chambers established to investigate and try alleged crimes committed by the Kosovo Liberation Army, Kosnet said the Special Court plays an important role in not just in pursuing justice on behalf of individual victims, but in making clear that Kosovo as a nation is not afraid to look at its past. "We think it's a very important institution and I think that it's going to prove its value in the months ahead," he said.