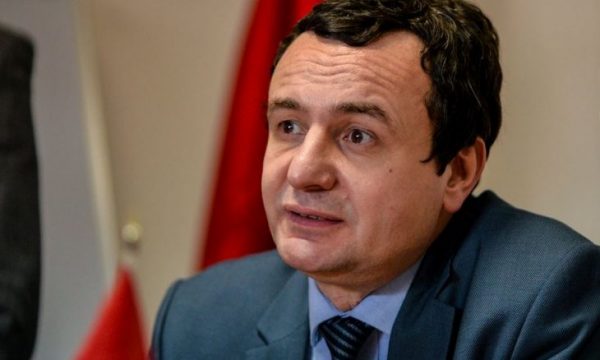 Gazeta Express
14 Shkurt 2020 21:48
Prime Minister Albin Kurti said the two US-brokered deals on restoring railway and highway links between Kosovo and Serbia signed Friday were not transparent and officials signing the two letters of intent on behalf of Pristina were not authorized by his Government.
The agreement, signed Friday on the sidelines of the Munich Security Conference, was brokered by U.S. President Donald Trump's special envoy for the Belgrade-Pristina talks, Ambassador Richard Grenell. The ceremony was attended also by presidents Hashim Thaci of Kosovo and Aleksandar Vucic of Serbia. Kurti who is also attending the Munich Security Conference travelled on Friday to Germany, after the ceremony took place in Munich. Grenell said the deal represented "historic progress on economic development. Agreements on air, rail and highway connections will facilitate the flow of people and goods between Kosovo and Serbia."
Kurti reacting late on Friday in his Facebook said the two agreements were signed by officials authorized by former government and the entire negotiation process was done before his Government was formed. "Therefore, these officials were not authorized by the new Government either to negotiate or sign any agreement. Furthermore, the text of the agreement has not been published. Various non-official drafts have circulated," Kurti wrote in Facebook.
Kurti said that despite importance of regional cooperation and good neighborhood relations, the process needs to be transparent, and in full respect with the sovereignty of Kosovo, its applicable laws, economic priorities and in line with the obligations deriving from the Stabilization-Association Agreement (SAA) signed between Kosovo and the European Union. "Furthermore, if we focus at one version of the agreement, and analyze the economic importance, the railway link in Lesak is more important and favorable than the one in Merdare," Kurti said.
After the sgining ceremony on Friday Kosovo President Hashim Thaci, writing on Twitter, called the agreement "another milestone! First, the deal on air traffic and today we signed the deal on railways and highways between Kosovo and Serbia. A great step towards reaching a final peace agreement between two countries." Serbian President Aleksandar Vucic said that the deal "will create a better future and ensure peace for the coming decades." /GazetaExpress/