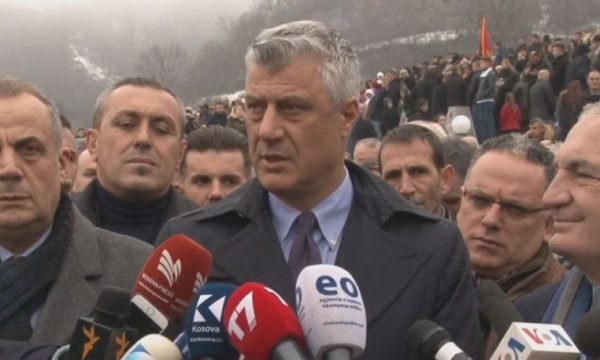 Gazeta Express
15 Janar 2020 14:00
Kosovo president Hashim Thaci has paid homages at the memorial dedicated to 45 Albanian civilians killed on 15 January 1999 in the village of Recak by Serbian police and military.
The massacre against Albanian civilians is considered as one of the bloodiest and a turning point for international community to intervene prompting NATO's intervention against Serbian military and police forces to stop ethnic cleansing in Kosovo.
"The Recak Massacre was a crime against humanity and genocide. Serbia should be held accountable, Justice will prevail sooner or later," Thaci said condemning the inaction of international community to bring those responsible for this massacre before justice.
Thaci paid homages at the Recak memorial accompanied by Albanian president Ilir Meta who said that every attempt to deny this massacre, or any other massacre in the region poses threat of provoking recycle of violence.
Kosovo institutions held a commemoration meeting in Pristina marking 21th anniversary of the massacre. On 15 January 1999, 45 Albanian civilians were brutally killed and massacred, including old men, women and children. /GazetaExpress/