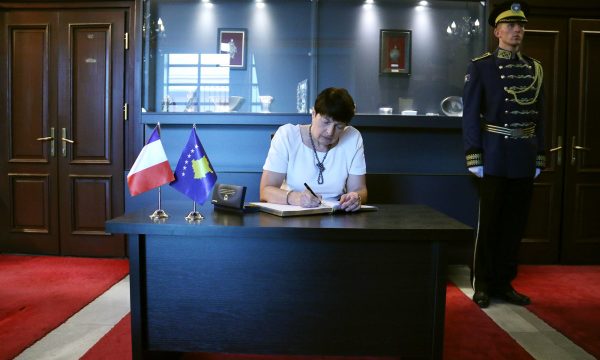 Gazeta Express
11 Dhjetor 2019 18:18
French Ambassador to Pristina, Marie-Christine Butel, says Kosovo needs to do more in the rule of law area in order to get green light on visa liberalisation.
In an interview with Gazeta Express, Butel said that France along some other EU members, considers that Kosovo has not fully met some of the conditions on visa free-regime, especially when it comes to fighting organised crime and corruption. "However, continuous implementation of reforms by Kosovo authorities is crucial in order for the adopted laws on the rule of law are and judiciary in particular, to be fully and irrevocably implemented," Butel said.
When asked to comment on the idea on exchange of territories between Kosovo and Serbia as a solution to a final comprehensive agreement, Butel said that it is up to Pristina and Belgrade to negotiate the content of the agreement and take into consideration all options which might lead to a comprehensive and final solution which would strengthen stability in the region. "The change of border idea was seen with scepticism, especially in Kosovo, Furthermore, also many other issues should be addressed within a comprehensive agreement," she said.
Ambassador Butel said that France encourages both Pristina and Belgrade to reach a final and legally binding agreement. "In this phase, resumption of dialogue should be prioritized," she said. "France, in coordination with Germany and the EU, is ready to facilitate resumption of the dialogue," Ambassador Butel said. She said that in order to create preconditions to resume the dialogue, leaders in Kosovo and Serbia should avoid implementation of measures and giving statements which might create tensions. "This is the reason why France, with its key partners asked Kosovo authorities to suspend 100 percent tax on Serbian imports and asked Serbian authorities to suspend their campaign on de-recognition of Kosovo," French Ambassador Marie-Christine Butel said. /GazetaExpress/