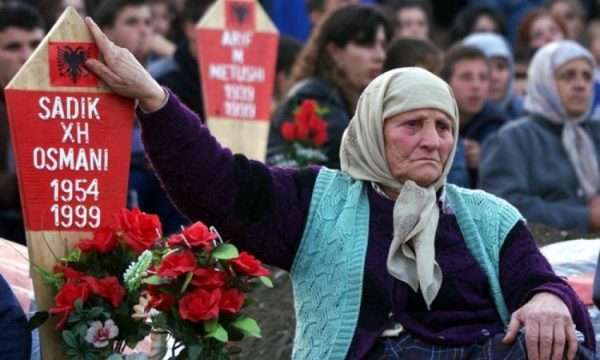 Gazeta Express
6 Dhjetor 2019 19:07
The European Union has condemned statements of Serbian President Aleksandar Vucic who said that a 1999 massacre of Kosovo Albanian civilians was fabricated. The European Commission in a statement to Gazeta Express says that there is no place for negating or relativizing the events which took place in Recak in January 1999.
Kosovo leaders including president Hashim Thaci, outgoing prime minister Ramush Haradinaj and foreign minister Behgjet Pacolli have condemned Vucic's statements who addressing media in Serbia on Thursday accused former head of the OSCE Kosovo Verification Mission, William Walker, of fabricating the Recak. Killing of 45 Albanian civilians in the Recak on 15 January 1999 by Serbian forces triggered NATO's air campaign against Serbian forces to stop ethnic cleansing in Kosovo. The European Commission says that authorities have to work for a honest and genuine assessment of the past out of respect for the victims. "Denial and revisionism are contrary to the values of the European Union and are contrary to the project of integration of the Western Balkans into the European Union," the European Commission's Press Service told Gazeta Express. According to the European Commission the region needs reconciliation, stability and normalisation of relations. "One thing is clear, there is no place for negating or relativising the events which took place in Racak in Kosovo in January 1999," the European Commission said.
Vucic reacted on Thursday after the Basic Court in Pristina convicted a former Kosovo Serb minister, Ivan Todosijevic, to two years' imprisonment found guilty of ethnic hatred after stated that the Recak massacre was "fabricated" and referred to Albanians as "terrorists."
The European Commission commenting on Todosijevic conviction said that it is for Courts to determine if certain statements constitute criminal offences. "Sentencing has to be proportionate and take into account all elements of the case," the European Commission said. /GazetaExpress/