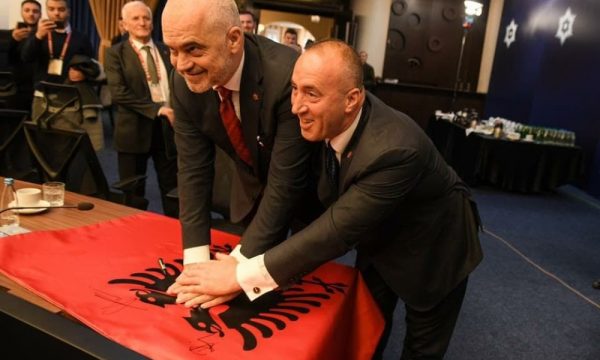 Gazeta Express
16 Janar 2020 0:25
Albanian prime minister, Edi Rama, has filed a defamation lawsuit against Kosovo's outgoing prime minister Ramush Haradinaj for his statements that Rama joined presidents of Kosovo and Serbia in their plan on swapping territories between the two countries.
According to Kosovo-based online portal betimi per Drejtesi Albanian PM Rama on Wednesday filed the lawsuit with the Basic Court in Pristina. Rama took Haradinaj to the court for as he said making slanderous statements against him appearing in several TV programs stating that Rama that jointly with Kosovo president Hashim Thaci and Serbian president Aleksandar Vucic initiated the idea on exchange of territories which was opposed by Haradinaj.
Haradinaj late on Wednesday commented the news on alleged lawsuit stating that Rama's lawsuit is ungrounded "This is just a political diversion aimed at simulating a media spectacle to avoid his responsibilities," Haradinaj said. "Our nation and Kosovo have people who are capable of protecting national interests at any time," Haradinaj wrote.
Kosovo's outgoing PM Rama has continuously accused presidents of Kosovo and Serbia as well as Albanian PM Rama, for promoting the idea on land swap between Kosovo and Serbia. Haradinaj is opposing the idea stating that every change of border to the region would have catastrophic consequences. /GazetaExpress/