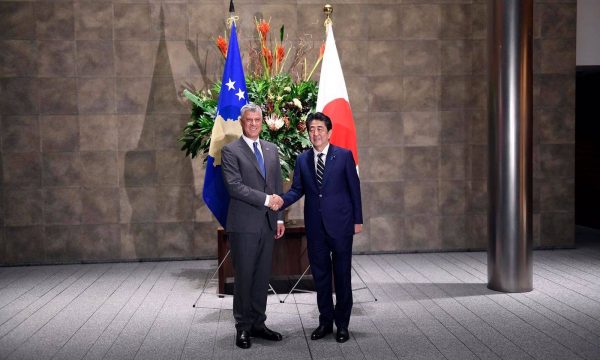 Gazeta Express
21 Tetor 2019 15:29
Kosovo president, Hashim Thaci, met on Monday Japan Prime Minister, Shinzo Abe. In a press statement of Thaci's Office is stated that Shinzo Abe has mentioned opening of the Japan Embassy in Kosovo, Gazeta Express reports.
Thaci is paying an official visit to Japan when he will attend the ceremonies of enthronement of the Emperor Naruhito.
Thaci on Monday met Japan PM to discuss bilateral relations and expressed his satisfaction with advancement of relations between the two countries. "Opening of the Japan Embassy in Pristina next year and successful summit of buissneses from Kosovo, japan and Austria in Vienna, held at the beginning of October, are confirmation of this advancement," Thaci is quoted as saying.
According to President's Office, the Japan Prime Ministe,r Shinzo Abe, expressed his satisfaction on intensification of cooperation and support between the two countries. "Opening of our Embassy in Pristina, successful summit of businesses and the Week of Japan Culture which will be held next week are a confirmation of our relations," Abe said. /GazetaExpress/