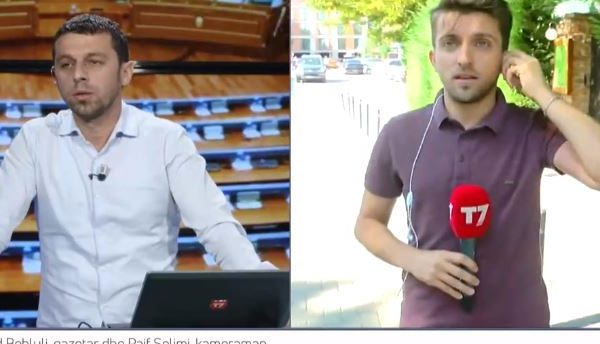 Gazeta Express
22 Gusht 2019 10:10
Journalist Mirlind Behluli has been physically assaulted while reporting live for T7 television. He was assaulted by bodyguards of the PDK head, Kadri Veseli. The assult came only hours after the PDK called its supporters to boycott Gazeta Express.
Behluli came under attack of Veseli's bodyguards while reporting from one of the Pristina restaurants the presence of Veseli and some other people as today lawmakers are expected to convene and vote on disbanding of Parliament. Veslei is also Speaker of Parliament of Kosovo. While reporting live on T7, Veseli's bodyguards have forced Behluli out hitting him in the head.
The PDK issued a press release denying that assault has really happened alleging that the journalist has staged the attack. The Association of Journalists of Kosovo has condemned the attack and called on the PDK to distance itself from the language used against media, infringing professional integrity of journalists.
The assault came only hours after the Democratic Party of Kosovo (PDK) issued a press release calling its supporters to boycott Gazeta Express which is part of the same media group with T7 television. Gazeta Express considers the PDK's press statement as unprecedented in the post-war Kosovo. /GazetaExpress/