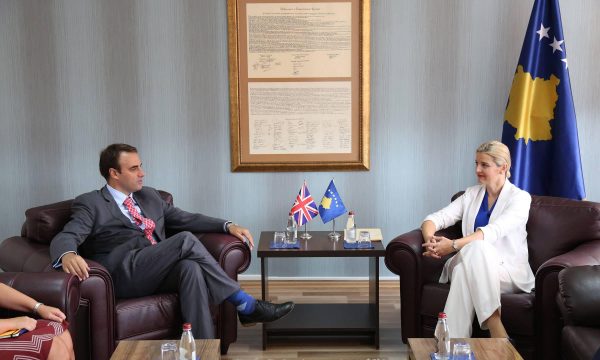 Gazeta Express
14 Gusht 2019 14:54
Outgoing British Ambassador to Kosovo, Ruairi O'Connell in a Facebook post has refuted a press release issued by Kosovo's ministry of the European Integration after he held a farewell meeting with minister Dhurata Hoxha.
British Ambassador complained that after the meeting with Minister Dhurata Hoxha his statements were distorted in a press release which as he said was issued without being cleared with the British Embassy first.
"The one thing I will not miss in Kosovo is the unprofessional and unfriendly practice of Kosovo politicians putting words into my mouth," O'Connell wrote in Facebook. "I met the Minister of European Integration today, who is an old friend. After the meeting, her Ministry issued a press statement attributing positions to me. This was not agreed with my Embassy. It was published in the media who did not check with my Embassy. In fact, I did not offer any opinion about Kosovo's implementation of the SAA. We did not even discuss it. We did not discuss human rights," O'Connell wrote.
"We did discuss the rule of law and the fight against corruption and organised crime. I said that Kosovo was at a crucial point, and needed to take steps to clean politics from criminality. I offered no evaluation about the work of the institutions," Ambassador O'Connell stated. According to O'Connell this has happened a number of times from different institutions and political parties. "From now on, my Embassy will correct any statement issued without our consent. To be absolutely clear: the UK does not support or oppose any political party in Kosovo. Kosovo citizens have the right and the duty to take responsibility for their vote and its consequences," O'Connell concluded.
The Ministry of European Integration in a press release issued after Hoxha-O'Connell meeting wrote that Ambassador O'Connell, evaluated the work of institutions emphasizing implementation of the Stabilization-Association Agreement (SAA), reforms and strengthening of the rule of law, fighting organised crime and corruption and respecting of human rights. /GazetaExpress/