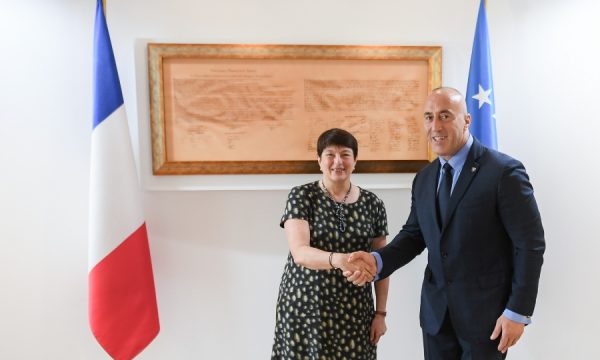 Gazeta Express
11 Shtator 2019 12:29
Kosovo's outgoing prime minister, Ramush Haradinaj, hosted on Wednesday newly appointed French Ambassador to Kosovo, Marie-Christine Butel.
Haradinaj informed Butel on progress in Kosovo and country's orientation towards the European Union as well as commitment of institutions to rule of law, economic developments and other important processes. Haradinaj thanked France for continuous support during the state-building process and consolidation of democratic institutions adding that this cooperation is of special importance.
"Partnership between Kosovo and France is and will remain long-term. We are grateful for all your support given to Kosovo. It is important this support continue in this important chapter for Kosovo," Haradinaj said. He told French Ambassador that Kosovo has fulfilled all visa liberalisation criteria adding that freedom of movement for country's citizens is important and asked France's help to liberalise visas.
Further Haradinaj said that Kosovo welcomes the initiative of French President Emmanuel Macron supported by German Chancellor Angela Merkel on the dialogue process with Serbia aimed at reaching a final, legally-binding agreement on mutual recognition under existing borders.
Ambassador Marie-Christine Butel, thanked the Prime Minister for the hospitality, pledging that France will support Kosovo in its Euro-Atlantic integration path. /GazetaExpress/