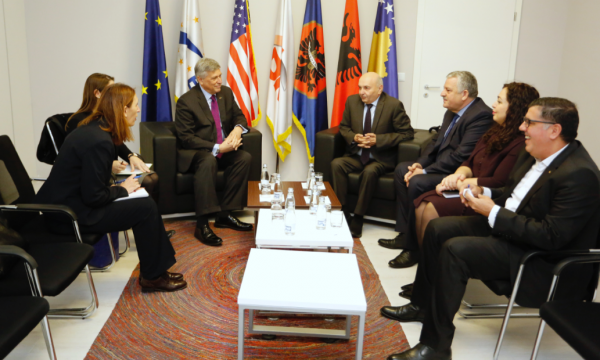 Gazeta Express
18 Nëntor 2019 15:44
Chairman of the Democratic League of Kosovo (LDK), Isa Mustafa and his deputies hosted on Monday US Ambassador to Pristina, Philip Kosnett, where he was informed on the progress of negotiations between the LDK and Vetevendosje after the two parties won 6 October elections, Gazeta Express reports.
According to the LDK Mustafa has informed Ambassador Kosnett on the progress of negotiaitons with the Vetevnedosje on harmonising programs. Specifically, it was discussed on harmonization reached so far on the rule of law, economy, social policy, education and health. Mustafa expressed the interest of the LDK for Kosovo to have functional institutions responding to demands of citizens for changes, expressed on 6 October elections. He also thanked the US Embassy in Pristina for continuous support in all processes of Kosovo.
The Vetevendosje which won the elections has launched negotiations with the LDK ranked as second to form new Government. The two parties have created working groups to agree on harmonizing of their programs. After several meetings over the last weeks the two parties have stated that they have agreed on most of the relevant topics but additional negotiations are needed before reaching a final deal. The Vetevendosje leader Albin Kurti has stated recently that he has to sit and discuss with the LDK chairman Isa Mustafa on sharing of government's posts and other important topics of national interest. The LDK is resisting to struck a final deal with Vetevendosje on co-governance insisting that the agreement would be reached only after certification of election results. The certification of election results might be expected by the end of this month after the Central Elections Commission (CEC), currently is recounting over half of all ballots from 6 October elections due to alleged irregularities. /GazetaExpress/