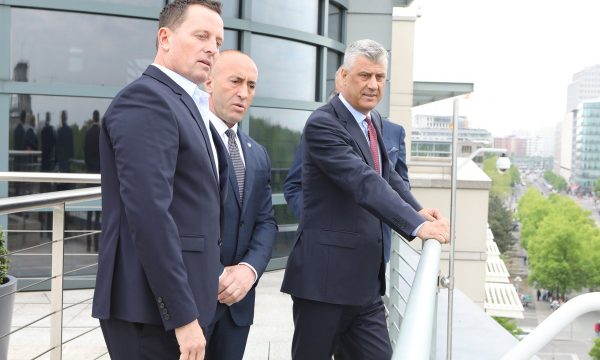 Gazeta Express
4 Tetor 2019 19:58
Kosovo President Hashim Thaci spoke by phone on Friday with Richard Grenell, after on Thursday he was appointed by US president Donald Trump as a special envoy on Kosovo-Serbia dialogue.
Thaci has welcomed Grenell's appointment as a special envoy and increase of the US role in normalisation of relations between Kosovo and Serbia. "Your appointment increases our confidence and trust in this process and prospects of reaching a final peaceful agreement with Serbia," Thaci is quoted as saying to Grenell over the phone. Thaci sees the White House move as a personal commitment of the President Trump to solve problems between Kosovo and Serbia.
Media have speculated of a friendship between Thaci and Grenell. According to the Voice of America, Serbian service, Thaci and Grenell held a secret meeting in Berlin, and reportedly Thaci promised to Grenell that he will engage on rescinding 100 percent tax on Serbian goods.
Also the Washington Post reported that President Thaci met with the US Ambassador to Germany, Richard Grenell in Berlin in December 2018. Trump referred to Grenell as "trusted man" and Thaci in Berlin promised him in a secret meeting that he would revoke tax on Serbian goods imposed by the government of Kosovo in November 2018. The Kosovo President's Office has never confirmed the meeting. The meeting was held a few days after US President Hashim Thaci wrote a letter to him and his Serbian counterpart, Aleksandar Vucic, showing readiness of the US to help in their efforts in "reaching an agreement which respects interests of both states, Kosovo and Serbia." /GazetaExpress/