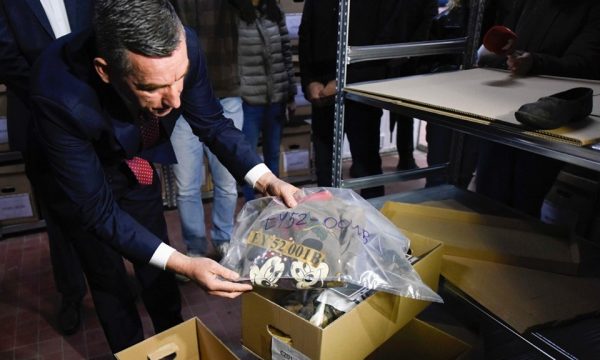 Gazeta Express
16 Maj 2019 13:13
Kosovo Parliament Speaker, Kadri Veseli, has visited Thursday a location preserving clothes and other personal items of thousands of Kosovo Albanians killed during the 1998-1999 war. Visiting the Kosovo Forensic Institute only hours ahead of Parliament's vote of a resolution condemning war crimes and genocide of Serbia committed in Kosovo, Veseli used the word "holocaust" to describe Serbia's war crimes in Kosovo and expulsion of almost 80 percent of Albanians during the NATO air campaign against Serbian police and military aimed at preventing ethnic cleansing in Kosovo.
Veseli who recently has launched an initiative on establishing an international war crimes tribunal on Serbia's crimes in Kosovo, said that it would be inexcusable if international community does not support his initiative on establishing a war crimes tribunal for Serbia.
Seeing clothes of men, women and children who were found in mass graves all over Kosovo and in Serbia's territory as part of a state operation to cover-up atrocities, Veseli compared killing of Albanians in Kosovo with the killing of six million Jews during the World War Two, and even used the holocaust word as a reference to describe crimes committed by Serbian police and military in Kosovo during 90s.
"Justice for victims will be delivered. In Jerusalem, at the Yad Vashem Museum I saw displayed the hair of killed Jewish children. If you go to the village of Poklek in Kosovo, you will see 56 people buried in one mass grave. This is Holocaust. It would be inexcusable if international community does not support the initiative on establishing an international tribunal for Serbia. As long as people walk in this earth, there will be justice and a tribunal on Serbian genocide," Veseli stated. He said that all the clothes of Kosovo war victims will be displayed at the Museum of Genocide which is expected to be built in Pristina. The director of the Institute of Forensic Medicine, Arsim Gerxhaliu thanked Speaker Veseliu for the initiative to establish the Museum of Genocide and pledged that the Institute will help handing over all the artefacts and evidence existing which would help shedding light on the Kosovo's tragic past. During 1998-1999 war in Kosovo, Serbian forces have killed over 13,500 people, and more than 1600 are still considered as missing. /GazetaExpress/