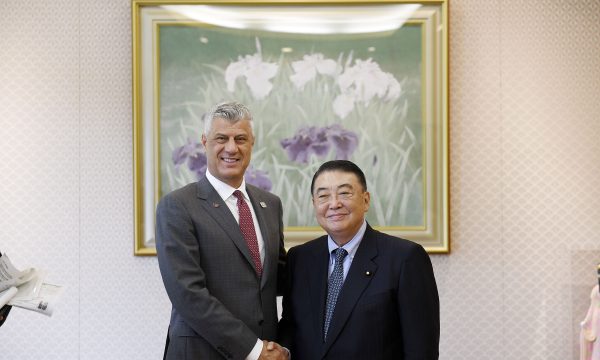 Gazeta Express
12 Shtator 2019 11:15
Kosovo President during his official visit to Tokyo met today Japanese Parliament Speaker Tadamori Oshima.
The President's press service announced that Thaci and Oshima discussed on mutual cooperation and exchanvge of ideas and concrete projects between the parliaments of both countries. Thaci thanked Japanese Parliament Speaker for the continuous support his country has offered Kosovo over the last three decades, especially during the state building process of Kosovo. He also welcomed the decision of Japan Prime Minister, Shinzo Abe, on the Initiative on Cooperation with the Western Balkans, aimed at strengthening cooperation with Japan and contributing to a long-standing peace in the region. He also said that opening of Embassy of Japan in Pristina proves strengthening of cooperation between the two countries which as Thaci said thsould be followed with increase of trade and economic exchange.
The speaker of the House of Representatives, Tadamori Oshima, said that Japan and Kosovo have a similar history, when a successful state-building became possible thanks to hard work of many generations. /GazetaExress/