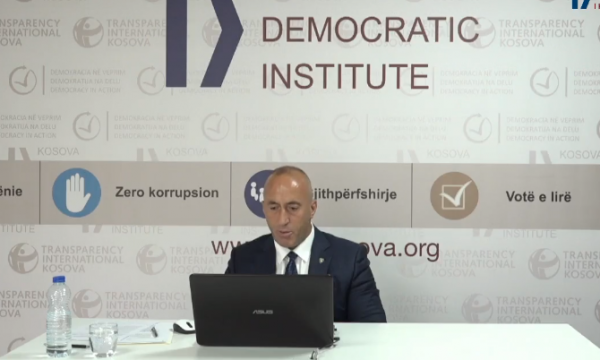 Gazeta Express
20 Shtator 2019 11:44
Kosovo's outgoing prime minister, Ramush Haradinaj, attending a debate on Friday organised by the Kosovo Democratic Institute (KDI) said the 100 percent tax on Serbian imports introduced by his Government in September 2018, will be revoked only after Serbia recognises Kosovo's independence.
Haradinaj said that Kosovo leaders should send a clear message to the European Union and United States that the tariffs will be removed only after Serbia fully recognises Kosovo. Sending mix signals, according to Haradinaj, will only make things worse for Kosovo. "We should explain to the EU and US that we are for an agreement on mutual recognition, so their option of suspending tax before launch of the dialogue weakens Kosovo's position. The tax will be revoked in exchange of recognition," Haradinaj reiterated his stance.
Talking on Kosovo-Serbia dialogue, Haradinaj said that the end of mandate of the EU foreign policy chief, Federica Mogherini, was a good news. Haradinaj said that it was during Mogherini's time as facilitator of Kosovo-Serbia dialogue that the idea on correction of borders or partition of Kosovo was launched. "Return of the dialogue at the negotiation table of German Chancellor Angela Merkel and French President Emmanuel macron and involvement of Washington after appointing Matthew Palmer as special envoy, is a positive decision, because the proposal on partition of Kosovo has been removed from the agenda," Haradinaj said.
Outgoing prime minister Haradinaj resigned in July this year after he was summoned by the Specialist Prosecutor's Office for questioning on his role as wartime commander of the Kosovo Liberation Army. Following his resignation, the Parliament of Kosovo voted to disband itself paving the way for early elections scheduled on 6 October. Haradinaj denied reports that the United States asked a "painful compromise" on solving Kosovo issue. "It is not true that America has asked us accept painful compromise. They never prevented us from establishing the Kosovo Army and never asked annulment of tax. It is the local leaders who went to America and presented their dangerous ideas," Haradinaj said. Haradinaj said that the dialogue with Serbia will be only on recognition under existing borders. "We can enter dialogue with Serbia only if the outcome would be mutual recognition under existing borders. I will not support resumption of dialogue with revocation of tax," Haradinaj said. /GazetaExpress/