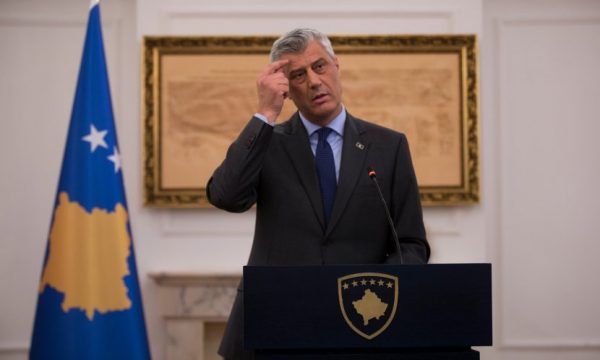 Gazeta Express
19 Qershor 2019 20:01
Kosovo president Hashim Thaci has decided to dismiss one of his advisors of Serbian nationality after T7 television and Gazeta Express reported that he was member of Serbia's Intelligence.
T7 television reported Tuesday that a Serbian man identified as Branislav Nikolic, who was member of Serbian intelligence was working as advisor to Kosovo president Hashim Thaci since 2016. Kosovo president in a press release issued on Wednesday confirming Nikolic's dismissal argued his Office had no information on his past activities.
"The President's Office had no official information whatsoever from the Kosovo's security institutions on potential involvement of Branislav Nikolic in suspicious activities, as reported by media," it is stated in the press release. However, Thaci's office admits that Nikolic has been released of duties based on media reports. "The President's Office takes seriously media reports on potential involvement of Nikolic in dubious activities, being either of criminal nature or threatening national security," the President's Office said.
Branislav Nikolic, was one of the Serbian men seen in a video published by the Kosovo's public broadcaster RTK in 2009 who acting as Serbia's intelligence officers is heard offering money to Kosovo Albanians who were ready to testify against Kosovo Liberation Army (KLA). Milutin Radanovic, Predrag Zeljkovic residing in Serbia and a Kosovo Police member of Serbian nationality, Igor Jucinac, as members of Serbia's Security Intelligence Agency (BIA) were secretly filmed in 2009 promising Kosovo Albanian potential witnesses large amount of money in exchange of a false testimony on allegedly organ harvesting during the war. In this video one of the BIA officers is heard as saying that they have offered 300 thousand euro to an unidentified person in exchange of a false testimony against former KLA people. These people were arrested by the Kosovo Police in June 2009 near capital Pristina suspected of organised crime and violation of the constitutional order of Kosovo. In the leaked video in 2009 is clearly seen also Branislav Nikolic, but he managed to evade justice at that time. Back in 2009 also media in Belgrade have reported on Nikolic's arrest, saying that he and three other Serbs have been arrested after they allegedly managed to contact witnesses "involved in organ trafficking during the war in Kosovo who were ready to testify against Hashim Thaci" who during the war was political representative of the KLA. Later the District Court in Pristina has acquitted the four Serbs due to lack of evidence. /GazetaExpress/