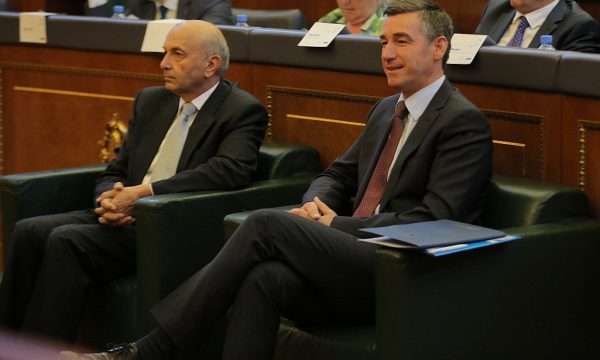 Gazeta Express
6 Gusht 2019 15:10
Two biggest political parties in current legislation – the Democratic Party of Kosovo (PDK) and Democratic League of Kosovo (LDK) have started the election campaign, pledging that they will not revoke tax on Serbian goods if they come to power after early election take place.
Kosovo is heading towards election as parties agreed on Monday to disband the Parliament on 22 August paving the way for the President of the country to announce early elections. The move came after prime minister Ramush Haradinaj resigned following summons from the Specialist Prosecutor's Office to be questioned as a suspect.
Re-elected chairman of LDK, Isa Mustafa, in an interview with Radio Free Europe on Monday said the tax will not be revoked if his party comes to power. Kosovo government introduced a 100 percent tax on all Serbian goods to counter Belgrade's aggressive campaign against Kosovo's statehood. "The tax should persist until Serbia changes its stance towards Kosovo," Mustafa said.
Also the PDK wants the tax not be revoked. Outgoing deputy prime minister of Kosovo who is senior member of the PDK, Enver Hoxhaj, said the tax should not be revoked. Earlier both PDK and LDK stated that they are in favour of reconsidering the tax blaming Ramush Haradinaj's government of isolating the country with introduction of tax against Serbia and Bosnia-Herzegovina. /GazetaExpress/