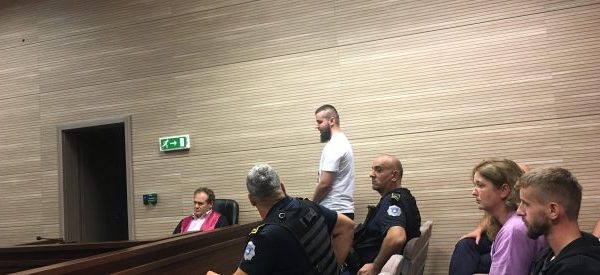 Gazeta Express
12 Shtator 2019 11:44
A Kosovo man accused of supporting the terrorist organization Isis and threatening caretaker prime minister of Kosovo, Ramush Haradinaj, pleaded guilty on Thursday.
Bledar Elshani, who appeared in the Basic Court of Pristina on Thursday, is accused of inciting terrorist acts and illegal possession of weapons. His lawyer Isaak Hoxha, asked the panel of judges to approve the plea of his client Elshani, and act in compliance with the law. Also the prosecutor of the case has accepted the guilty plea, adding that this is in full compliance with the provisions of the Criminal Procedure Code of Kosovo, and in compliance with the material evidence which led to the indictment.
The panel of judges, presided over by Shadije Gerguri, has approved Elshani's guilty plea, and parties have made the closing statements. The Prosecutor of the case Afrim Shefkiu asked the Court to sentence Elshani mentioning the weight of the criminal charges he is facing. His lawyer, Isak Hoxha, asked the panel of judges to issue a minimal sentence for his client, adding that he is young and without a proper education, and had never before problems with the law. He also asked Elshani be released from detention on remand until final court judgment. Bledar Elshani in his final statement said that he regretted the two criminal charges. The Judgment will be announced on 13 September. According to the indictment, Elshani from August 2018 to January 2019, as administrator of a social media channel, has posted photos and videos propagating terrorist organization ISIS, and openly supporting their terrorist actions. Also according to the indictment, ELshani on 23 August 2018, in a post in social media has threatened the then prime minister Ramush Haradinaj. /GazetaExpress/