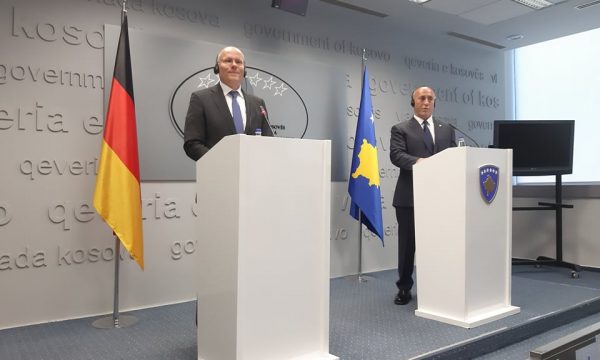 Gazeta Express
3 Shtator 2019 19:45
German MP and member of the ruling German party, CDU, Peter Beyer, said his country supports visa liberalisation for Kosovo citizens, but he gave no deadlines on when Kosovars will be able to travel visa-free into the EU Schengen area. Bayer during a press conference in Pristina, after meeting outgoing prime minister, Ramush Haradinaj, said the visa liberalisation date might be a present for Christmas.
"Germany is one of the countries supporting Kosovo's integration into the EU and visa liberalisation. We never set any deadline on when visa liberalisation will happen, we always addressed the process. It is not just for Kosovo to be the only state without visa liberalisation, we will have two working groups working on this issue," Bayer said.
Kosovo prime minister Haradinaj said that there is no date on waving visas, adding that German Chancellor Angela Merkel supports integration of the region into the European Union. "I asked Mr. Bayer to support the region, as the Chancellor has already stated. We have no deadline on visa liberalisation," Haradinaj stated. Haradinaj reiterated that Kosovo's borders cannot change and expressed regret that the five EU members have not recognised Kosovo's independence. "Kosovo should protect its current borders," Haradinaj said.
German MP said that future Government of Kosovo should enter dialogue with Serbia without conditions adding that he is aware that this is difficult. At the end he gave the message of German Chancellor Merkel who said that Western Balkans belongs to the European family. /GazetaExpress/