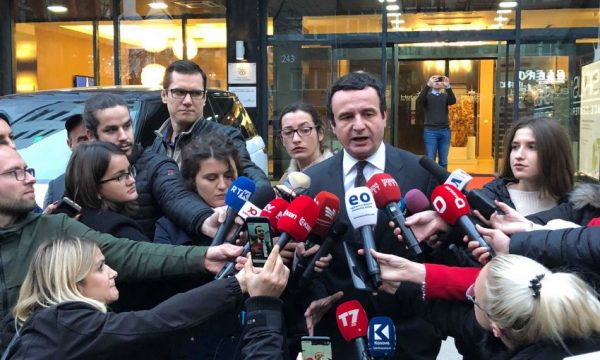 Gazeta Express
22 Nëntor 2019 16:54
Vetevendosje leader Albin Kurti addressing media on Friday after meeting Isa Mustafa, leader of the Democratic League of Kosovo (LDK) said that they agreed to reach an agreement three days after certification of elections results held on 6 October.
Kurti who is candidate for prime minister, said that they agreed with Mustafa to meet again next week. "We had a constructive meeting with the LDK's chairman and at the same time working groups of both parties met to harmonise program of our future government. We have discussed on election process and we agreed that one hour after certification of election results, we will meet and reach an agreement within three or four days," Kurti said. Kurti stated that the agreement on government coalition has 26 pages. "Our working groups will continue meetings on harmonization of government program and until now we have 26 pages of text," Kurti said.
LDK Chairman Isa Mustafa said the two parties have reached progress in harmonizing programs and agreed with Kurti that after certification of election results to talk on details of forming new Government. "We agreed that after certification of election results to sit together and agree on potential coalition and creation of Government," Mustafa said. The LDK chairman confirmed that they will discuss also with the Srpska List adding however that it is up to Kurti who is mandated to form the new Government to take a decision. Mustafa said that during today's meeting they have not discussed on ministerial posts. /GazetaExpress/