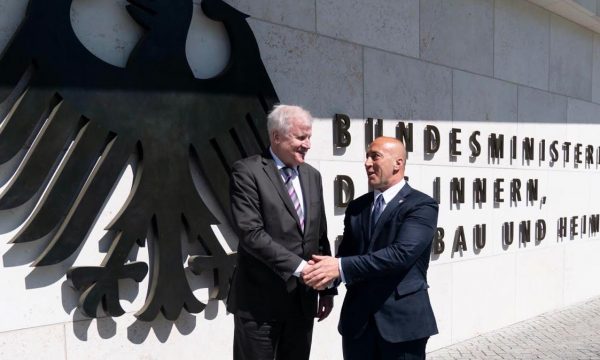 Gazeta Express
6 Qershor 2019 15:11
The first meeting of the working group on visa liberalisation formed by the Kosovo Government in cooperation with the German Federal Ministry of Internal Affairs will be held on Friday, Gazeta Express reports.  
Kosovo prime minister Ramush Haradinaj who is paying an official visit to Berlin said after meeting chancellor Angela Merkel that Germany supports waving visas for Kosovo citizens and the first meeting of a working group of Kosovo and Germany expected to address technical modalities of visa liberalisation is expected to convene tomorrow, Gazeta Express has learned.
The meeting comes after last month German minister of interior, Horst Seehofer, met Kosovo prime minister Ramush Haradinaj. After the meeting Haradinaj said that Germany said "Yes" to visa fee regime for Kosovo. Upon his return from Berlin Haradinaj's Government established a working group tasked to cooperate with the German ministry of Internal Affairs on harmonising standards related to visa liberalisation process.
Kosovo prime minister confirmed Thursday that he discussed visa liberalisaiton issue with German chancellor Merkel. He told media in Berlin that Kosovo once again got confirmation that Germany is in favour of liberalising visas for Kosovo. Gazeta Express has learned that the EU Council is likely to include in its agenda waving visas for Kosovo during its autumn meeting. /GazetaExpress/