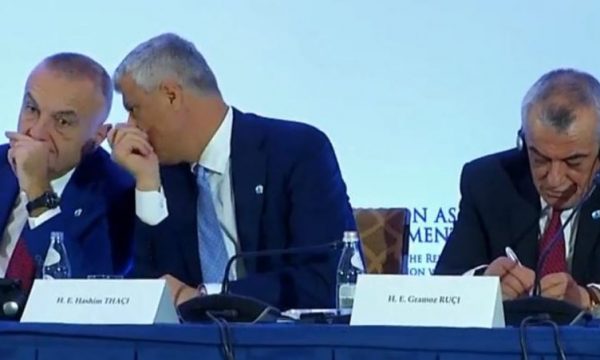 Gazeta Express
18 Nëntor 2019 13:32
Kosovo president Hashim Thaci is in Tirana where he attended the "Religion as instrument of peace" conference organised by Albanian President, Ilir Meta, in cooperation with US State Department in Tirana.
President Thaci in his addressing said that Kosovo is an example on how religion helps in building and strengthening of the peace. The conference is attended by leaders and representatives of the region, including Albania, Kosovo, Serbia, North Macedonia and other countries. Thaci said that one of the Kosovo's achievements was that during the war in Kosovo it was not allowed for the religion to be implicated, and speaking about the post war period, he mentioned the role of religion in peace building and tolerance, but also the fighting of radical and extremist religion. "Allow me to speak a bit about Kosovo's experience with religion and peace and to list some of the achievements of ours. The first one is that we have not allowed the religion to be implicated in Kosovo's war for liberation and independence," Thaci satated.
The second achievement, according to President Thaçi, is that Kosovo has included the religion and religious leaders in its endeavors to build peace and understanding between people since the end of the war. "One of my first initiatives as the President of the Republic of Kosovo, was the establishment of the Truth and Reconciliation Commission. One of the first main supporters of this initiative were the religious leaders, of all religious communities," said the President. And the third one, is that the religious leaders in Kosovo have built bridges of communication and cooperation between them. "Thus we send out the message of tolerance and cohabitation and we place the religion in service to the peace in Kosovo," concluded President Thaci. /GazetaExpress/