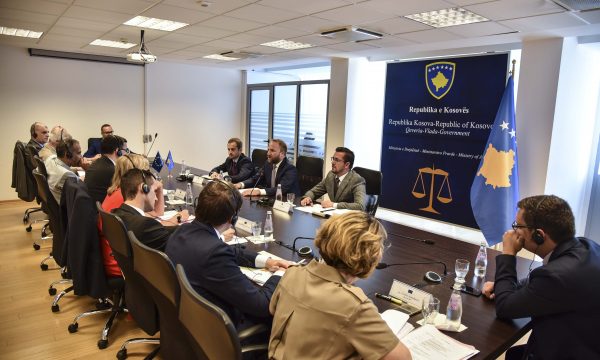 Gazeta Express
3 Korrik 2019 16:20
Minister of Justice, Abelard Tahiri, has received on Wednesday a delegation of European Union experts who are visiting Pristina to discuss steps taken by Kosovo in implementing Joint Plan Against Terrorism in Western Balkans.
Minister Tahiri briefed the EU officials on legal amendments, including amendment of the Criminal Code, Criminal procedure Code, that will help Kosovo to efficiently fight crimes. These changes according to Tahiri, have enabled creation of the Special Department within the Basic Court of Pristina and the Court of Appeals, dealing with the files of the Special Prosecution of Kosovo, proving commitment of institutions in uncompromised fight against organised crime and corruption.
In implementing Joint Plan, Tahiri has mentioned the action of Kosovo authorities in April, which resulted in repatriating 110 Kosovo citizens from Syria. Minister Tahiri assured the EU delegation that all those suspected of terrorism will be brought before justice, whereas victims will continue rehabilitation and their reintegration in society.
Being member of the Global Alliance Against ISIS, Kosovo institutions are committed in fulfilling their obligations, Tahiri stated, and pledged for a more efficient way in implementing Joint Plan Against Terrorism on Western Balkans, by cooperating with other countries of the region and EU members.
The EU delegation has commended minister Tahiri for the courage shown during the operation on repatriation of Kosovo citizens from the conflict areas, and the overall results in fighting terrorism and violent extremism and cooperation with the European Union. /GazetaExpress/