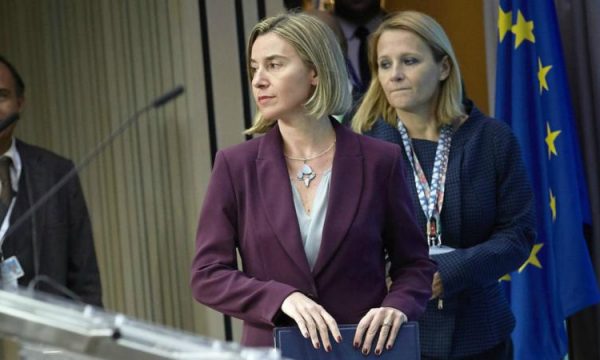 Gazeta Express
9 Shtator 2019 15:08
Kosovo-Serbia dialogue on normalisation of relations is likely to resume in December this year. The U.S. Secretary of State, Mike Pompeo, has appointed Matthew Palmer as the Special Representative for the Western Balkan, who will deal also on Pristina-Belgrade dialogue. Palmer's appointment as special envoy means a more direct involvement of the United States in the dialogue process, which until now was facilitated by the European Union. Seeing the US movement, German chancellor Angela Merkel, sent her envoy to Kosovo and Serbia last week, the German MP from ruling CDU, Peter Beyer, who also said that he prefers the EU appoints a special envoy dealing with Kosovo-Serbia dialogue. Talking on his relations with palmer, the German MP Meyer said that they are in continuous contacts with the US envoy for Balkans.
The European Commission has no concrete answer on Palmer's appointment adding that they expect close cooperation between the EU and newly appointed US Special Representative for Balkans, Matthew Palmer, because as the European Commission official says, the Western Balkans is of joint interest.
"The EU works very closely with the US on the Western Balkans. The US has made a valuable contribution to our work in the WB and in particular to the success of the Dialogue. The US and the EU share a strong interest in a stable and prosperous Western Balkans, so we look forward to continuing our close cooperation with the US and with Matt Palmer, now as US Special Envoy," says Maja Kocijancic, EU's Foreign Affairs and Security Policy Spokeswoman. Kocijancic said that the EU foreign policy chief, Federica Mogherini remains personally engaged and fully committed to the facilitation of the Belgrade Pristina talks, the EU perspective of Serbia, Kosovo and the entire Western Balkans region. We of course welcome any engagement in support of the EU facilitated Dialogue by Member States as well as by our international partners, and, in particular, the United States. "As invited by the United Nations General Assembly (UNGA), the High Representative/Vice-President Federica Mogherini is personally engaged and fully committed to the facilitation of the Belgrade Pristina talks, the EU perspective of Serbia, Kosovo and the entire Western Balkans region. We of course welcome any engagement in support of the EU facilitated Dialogue by Member States as well as by our international partners, and, in particular, the United States," Kocijancic told Gazeta Express in a written answer. /GazetaExpress/