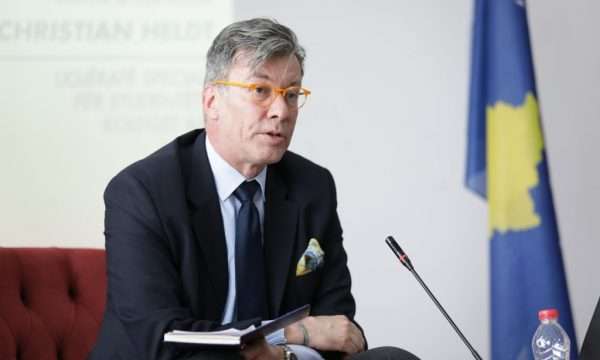 Gazeta Express
25 Tetor 2019 11:05
German Ambassador to Kosovo, Christian Heldt, in an interview with Gazeta Express talks on elections held in Kosovo and expectations from the winners, including relations with Serbia. Heldt has commented on negotiations between winners of the elections Vetevendosje and the runner-up Democratic League of Kosovo (LDK) to form new Government. Ambassador Heldt in his interview said that Germany does not rush anyone to conclude any agreement and wants such an agreement solve all outstanding issues between Kosovo and Serbia.
How do you see the results of snap elections in Kosovo?
Right now, we are still waiting for the final results. And we do hope that counting can be finished as soon as reasonably possible to prevent legend-building and allow everybody a clearer picture on the contours of a possible government coalition. With the exception of systematic problems in the areas inhabited by the Kosovo Serb community, the European Observation Mission has given an overall positive finding on the handling of the elections with isolated shortcomings. So congratulations to Kosovo, the Central Election commission and first and foremost to the people of this country for the comparatively high turnout and the smooth process on election day. This is democracy!
Negotiations between two parties LDK and Vetëvendosje sometimes are having their tensions. Can Kosovo wait so long for a new government?
As I said, we are all waiting for the final results, what could the main contenders VV and LDK change about that? No, I think it is good that preliminary talks are happening, but I also understand that all concerned want to respect the constitutional order which prescribes first a final result and then as next step the President in his constitutional duties to mandate the winner with the formation of a new government. We will have to be patient: Coalition negotiations are never easy, especially when the aim is to base cooperation on programmes and policy, and not on personal interest. This requires compromises. It is therefore natural that also this process might take some time.
The UK Embassy in Kosovo answered to Mr Vucic about the picture in Vetëvendosje's headquarters in front of Albania's flag. How do you find it that the party that won elections in Kosovo, keeps red and black flag in their offices?
Well, the position of my government to Kosovar statehood and state symbols is known. I personally also think citizens of this country have every reason to be proud of these and I see the growing popularity for example in the field of sports, being myself a great fan of the Kosovar national football Team.
In a meeting you had with mr Albin Kurti on late September, you took a picture with him in front of the building, but not indoors. Is the Albania's flag the reason you never published a picture from any formal meeting in VV's offices?
Why should a photo in the entry of the Vetevendosje building be less fitting?
There were always doubts if EU and the US would fully support a Government leaded by Mr Kurti because of his obvious viewpoints. Now he is the winner of the elections. What are your expectations for Kurti's leadership?
Once more, there are still some steps given by the constitution of the Republic of Kosovo to be completed. For those who will then be entrusted with government responsibility, it will be about fulfilling the hopes of voters. And these hopes are about concrete steps in all spheres of life to move Kosovo forwards. This country has such a potential that it needs and deserves governance enabling it to fully flourish. We all know the priorities for Kosovar society, which we Germans share: Rule of law and equal access to impartial justice for every citizen, the replacement of nepotism by merit-based hiring, especially in the public sector; quality education including vocational training to open more job perspectives, the fight against corruption. And I could go on and on. In the field of foreign policy we as inventors of the Berlin process are of course interested in boosting regional cooperation further. For that, the last major hurdle in the region has to be finally overcome in a lasting solution: the relations between Kosovo and Serbia.
In the meantime, EU and the US seek from Kosovo and Serbia to go back for negotiations and to reach an agreement as soon as possible. Do you see any chance for delays with Mr Kurti as the Prime Minister of Kosovo?
The German position is clear and I have underlined this on many occasions: We argue for a comprehensive and sustainable, legally binding agreement that solves all open issues and contributes to regional stability. Reaching such an agreement will take time, we want this to be done solidly to solve all issues once and for all Therefore we do not rush anyone to conclude this key agreement. But we believe that it is high time to restart the negotiation process. It is my firm belief that this is first and foremost in the interest of Kosovo: A genuine normalization would finally allow to focus on the real challenges for this region as a whole. So I am confident that the new government will start work on this complex matter from day 1 onwards.
Mr Kurti said that he will keep the tariffs for Serbian goods until Kosovo put measures of reciprocity with Serbia. Do you have any hope that the new government will remove those you called "obstacles" for dialogue between Kosovo and Serbia?
We have to keep in mind that both sides have put up obstacles to a constructive dialogue as you would expect it from actors who vow for normalization. We will of course continue calling parties to get back to serious and constructive negotiations as all of Europe and indeed all international actors are genuinely interested in getting this neverending story resolved. This can only be done in an atmosphere of mutual respect. Both sides can work on that. For Kosovo, this means in concrete terms stepping down from the 100% tariffs. They hurt regional cooperation we Germans are particularly keen about, they hurt trade, but they also hurt Kosovar economy and consumers. A lot has been invested in regional cooperation to advance the whole of the Western Balkans, but first and foremost Kosovo.
How do you see Mrs Mogherini's work for facility of the dialogue and should Kosovo be concerned with the election of Mr Joseph Borrell as the facilitator of the dialogue?
After the valued contribution of the outgoing High Representative, her successor will face the challenge of the high expectations as to resolving the complex normalization issue between Kosovo and Serbia during his term. I have repeatedly stated that the EU is in the driver's seat for these negotiations for a good reason: they are acting for the whole EU family. This gives particular weight for the dialogue. So Kosovo should also see a huge opportunity in the nomination of Mr Borrell. He will be in the focus of huge global challenges for the EU. Nevertheless, he has already stated his genuine interest for Kosovo by announcing his first visit to come here to Prishtina. The Western Balkans and especially restarting dialogue is one of his stated top priorities. Kosovo should grasp this opportunity and welcome him with trust and the heartfelt hospitality every guest feels here.
Mr Borrell lately said that Kosovo cannot be considered as an independent country without being recognized by Russia and China. What should be Kosovo's expectations from a High Representative with such statements?
Who am I to interpret the future High representative's statements? But you should trust a man who speaks honestly. Have you actually seen his whole intervention in the European Parliament? I did and I saw somebody who wants to genuinely engage. Somebody who admits that more needs to be done and calling both parties to engage. A future Highrep who announced that one of his first trips will be to Pristina. So I am convinced that he will be engaging as a true representative of European interests. /GazetaExpress/