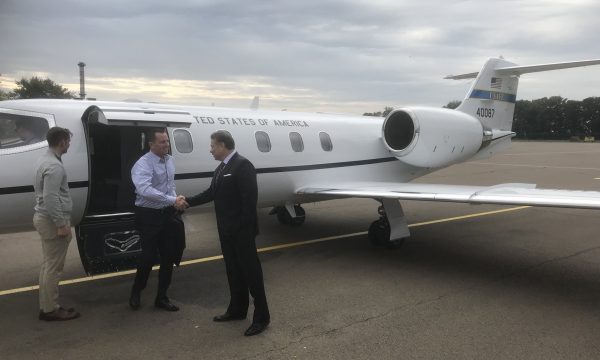 Gazeta Express
18 Tetor 2019 14:36
After Germany and France, the United States are interested to for a final solution between Kosovo and Serbia. In a short period of time, Washington has appointed two emissaries to deal with the Western Balkans and Pristina-Belgrade dialogue. US Secretary of State, Mike Pompeo, has appointed Matthew Palmer as the special envoy for the Western Balkans. Whereas US President Donald Trump, has appointed Richard Grenell as his special envoy on Kosovo-Serbia dialogue, who just recently visited Pristina and Belgrade, Gazeta Express reports.
Diplomats and foreign policy experts perceive this as increase of US commitment to solving Kosovo-Serbia issue. The US-based Heritage Foundation, has published a list of priniciples which might help Grenell to deal with the Kosovo dialogue. The Heritage Foundation considers Kosovo-Serbia problem as a delicate issue, and advised Grenell to take into consideration five principles in order to succeed in his work. The first advice to Grenell is that nothing is easy in Balkans, and calls on the US special representative to be mindful of America's past commitment to the region.
Nothing Is Easy in the Balkans
As Ambassador Grinnell rolls up his sleeves and dives into the Gordian knot that is the Balkans region, he should remember and be guided by these five principles:
1. Understand that nothing is easy in the Balkans and be mindful of America's past commitment to the region. Both Belgrade and Pristina will push simplistic and seemingly easy proposals as a way to normalize relations.It should never be forgotten that nothing in the Balkans is easy or straightforward.The U.S. has invested heavily in the Balkans since the end of the Cold War. Tens of thousands of U.S. soldiers have served in the Balkans, and the U.S. has spent billions of dollars in aid there—all in the hope of creating a secure and prosperous region that will someday be part of the transatlantic community.
2. Be a Special Envoy, not a cartographer. Due to the disposition of minority groups between the two countries, some suggest that a land swap between Kosovo and Serbia could speed up the normalization process. Swapping land and redrawing borders based on ethnic and sectarian lines would mark a dangerous precedent and would open up a Pandora's Box in the region. Supporting an initiative allowing Serbia and Kosovo to swap thousands of acres of land is not worth the instability it could cause throughout the rest of Europe. The U.S. should make it clear that it does not support any land swap.
3. Work with Europe, not against it. The U.S. should work with its European allies to encourage Kosovo and Serbia to normalize relations. Stability in the Balkans is a major policy area of alignment Washington shares with Brussels. The U.S. needs to stay engaged in the Balkans, remain committed to the region's security, and work with European allies, particularly the U.K. and Germany, to advance a transatlantic security agenda. This includes supporting the region's transatlantic aspirations and continued U.S. involvement in KFOR.
4. Be patient with Kosovo's progress. It is a poor country and suffers from high unemployment and corruption. The U.S. needs to develop a strategy that: (1) understands the improvements in good governance and economic growth will be a process and not an event; (2) focuses on Kosovo's long-term transatlantic aspirations, such as NATO membership; and (3) engages the nation's youth in building a robust civil society and a prosperous, dynamic economy.
5. Keep eyes wide open when dealing with Serbia. Some Serbian politicians talk a good game about wanting to join the transatlantic community, while continuing to court the Kremlin. U.S. policymakers should not forget or ignore that Serbia continues to serve as Russia's foothold in the region. U.S. policymakers should be conscious of the fact that Serbia is not only no guarantor of stability in the Balkans but still a source of instability. This is especially true in Bosnia and Herzegovina with Belgrade's support for separatism in the Republiska Srpska. That does not mean the U.S. should stop seeking meaningful engagement with Serbia, but that any engagement should be pragmatic and undertaken with a realistic view of Serbia.
Conclusion
The appointment of Ambassador Grenell as Special Envoy denotes the Administration's intent to stay actively engaged in negotiations between Kosovo and Serbia. Ambassador Grenell must encourage the nations of the Western Balkans to put aside historical, cultural, or religious complaints and work constructively to increase trade relations, settle border disputes, and forego inflammatory rhetoric for the sake of stability. These five principles should help guide the Special Envoys to work in a critical region of Europe.