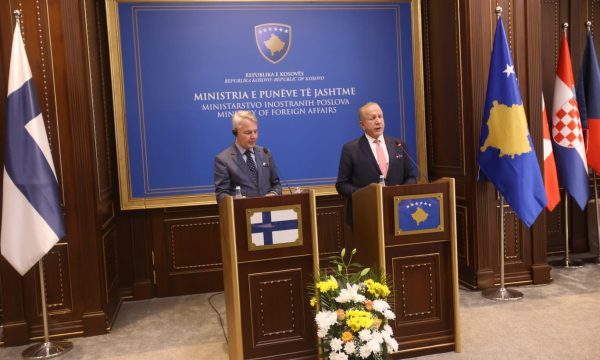 Gazeta Express
30 Shtator 2019 15:16
Finnish Foreign Minister Pekka Haavisto is visiting Pristina when he was received by his Kosovo counterpart, Behgjet Pacolli.
After the meeting Haavisto addressing media said that Finland fully supports visa liberalisation for Kosovo. "I think that cooperation between the two countries was very intensive. This is the first time I am visiting Kosovo. We should admire the way Kosovo is developing since the end of war. Congratulation for the good work," Haavisto said.
"Finland has contributed to international missions here. The diaspora of Kosovo is very known in my country with its work and achievements," he said. "We support the Independence of Kosovo and country's participation into international organisations," Finnish Foreign Minister said.
"When it comes to visa liberalisation, we should have all the opinions of the EU member states. Finland also supports the EU enlargement process," he said. "But there are some problems preventing progress of the dialogue with Serbia. You have the full support to continue talks. We are concerned with the tariffs introduced to Serbian products and we hope to create conditions and resume the dialogue," Haavisto stated. "Young people in Kosovo deserve a better future. I hope the entire Balkans one day will join the EU," he said. /GazetaExpress/