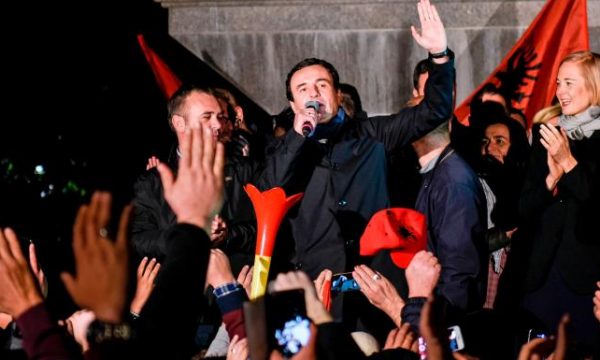 Gazeta Express
10 Tetor 2019 17:29
After Kosovo parties who won Sunday's election started on Thursday coalition talks, the likely new prime minister and leader of Vetevendosje, Albin Kurti, stated that there will be no ministers of the Srpska List in his cabinet. Following his statement, the European Union in an answer to Gazeta Express said they expect the work for forming the new government to be in line with the Constitution of Kosovo.
Kurti addressing media after meeting the Democratic League of Kosovo (LDK) candidate for prime minister, Vjosa Osmani, said that as prime minister of Kosovo he will fulfil the constitutional obligation to have a Serbian minister in his cabinet, reiterating that he will find someone out of Srpska List, a political entity which won all reserved seats in Kosovo Parliament. "Our Constitution obliges us to have a Serbian minister if we have 12 ministries, and we will respect the Constitution of Kosovo, but we are not intending to run after the Srpska List, without meeting with other Serbs outside Srpska List who ran in the elections and faced injustice which was reported also by international observers. We will not make third or fourth step without takin the first one by consulting Kosovo Serbs who accept the Republic and recognise independence of our country," Kurti stated.
Deputy head of Srpska List, Dalibor Jevtic, said forming new Government of Kosovo without them is impossible. He told Serbian state broadcaster RTS that Srpska List won all reserved seats in Kosovo Parliament and this leaves no room for Albanian leaders "to bargain" with interests of Serbian citizens in Kosovo.
The EU Commission spokesperson, Maja Kocijancic, in an answer to Gazeta Express, said the European Union looks forward to the formation of a new government as soon as the relevant procedures are completed. "This is important so that Kosovo can swiftly resume work on reforms in support of economic and social development as well as rule of law, on the implementation of the EU-Kosovo Stabilisation and Association Agreement and on the EU-facilitated Dialogue with Belgrade. We expect all political actors to remain committed to these processes, which are key for Kosovo's future, for progress on its European path, and most importantly for the benefit of the people of Kosovo and of the whole region," it is written in the answer. Asked to comment Kurti's statements, the EU spokeswoman Kocijancic said: "We expect the work for forming the new government to be in line with the Constitution of Kosovo." /GazetaExpress/