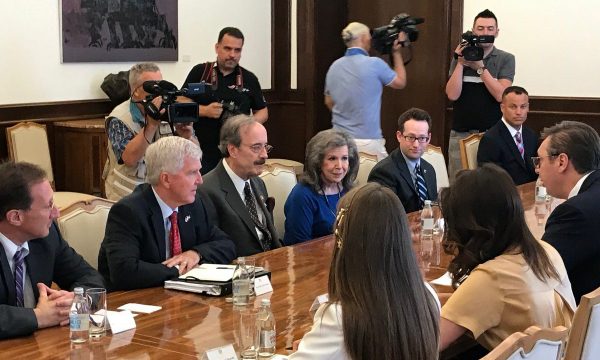 Gazeta Express
3 Korrik 2019 16:10
Congressman Eliot Engel, chairman of the U.S. House Foreign Relations Committee, is visiting Belgrade where he met Serbian president Aleksandar Vucic.
In a statement issued by the US Embassy in Belgrade, is stated that Engel met with President Vucic to discuss the Dialogue with Kosovo, how to encourage lasting peace and stability in the Balkans, and justice for victims of the Kosovo conflict.
Serbian president after the meeting said that they have discussed on "importance of resumption of dialogue between Serbs and Albanians." He said that one of the topics discussed was also the case of the Bytyqi brothers, three Albanian-American citizens, whose bodies were found 18 years ago in a mass grave in Serbia. Ylli, Agron and Mehmet Bytyqi, were members of the former Kosovo Liberation Army (KLA) from the Atlantic Batallion, composed mainly of Albanians living in the US, who joined the Kosovo liberation war in 1998-1999. In July 1999 they were arrested under unknown circumstances by Serbian forces near the border crossing between Kosovo and Serbia in Merdare. A court in Serbia, sentenced them to 15 days in detention, accusing them of illegally entering the then Yugoslavia. Four days after expiring of their detention measure, they were taken from the prison and sent to Petrovo Selo, a training camp of Serbian special police forces where they were executed. Their bodies were found in 2001 in a mass grave, and their hands were tied with barb wires, among the bodies of other Albanian civilians whose bodies were transported to Serbia in an attempt to cover-up the cruelty of Serbian forces during the war in Kosovo. Since 2006 two trials were held in Serbia on the Bytyqi brothers, involving to Serbian policemen as being involved in this killing, who were later acquitted. US authorities have continuously asked Belgrade to resolve this case and those responsible for this crime be brought to justice.
US Congressman Engel, after visiting Belgrade, will go to the Presheva valley, in Southern Serbia inhabited by Albanians and following his visit to Serbia he will come to Kosovo when he will attend the activities marking US Independence Day and inauguration of the new US Embassy building in Pristina. /GazetaExpress/