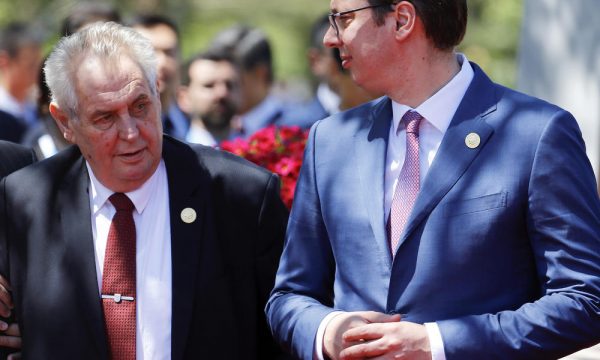 Gazeta Express
11 Shtator 2019 14:11
Milos Zeman, the Czech Republic President, said today in Belgrade that within a month his country will consider withdrawal of the recognition of Kosovo's Independence, after a meeting with the Constitutional authorities in Prague.
Ahead of the visit to Serbia, Zeman said that although there was a small chance, Prague could revoke the decision on recognition of Kosovo's independence. Asked whether Serbia can expect any of the EU countries reconsider the decision to recognise Kosovo's independence, Milos Zeman said that he is not a dictator to impose his stance, adding that he would ask constitutional authorities whether it is possible to withdraw Kosovo's recognition.
"I am glad that Czech Minister of Defence, Lubomir Metnar stated that recognising Kosovo was a mistake. Most likely he will be on my side, who else is on my side will see," Zeman said during a joint press conference with Serbian president, Aleksandar Vucic. Zeman is known for his position against the Government of Czech Republic, who recognised Kosovo's Independence after its declaration in 2008. Eleven years after the independence, Kosovo is not recognised by five EU member countries: Spain, Greece, Slovakia, Romania and Cyprus. /GazetaExpress/